Books and covers: theme Robots
Last month I looked at book covers and used colors to start from.  May however is asking, and getting a new approach.  We are starting from a theme.
My son helped me chose themes .
The books on the red carpet this week are about,… drums please,….  Robots.
Yep, you've  read that right. Can you hear their mechanical sounds, push forward on their way to this party?
First book on the list is this joyful cover.  Robots, Robots everywhere! by Sue Fliess , and illustrations by  Bob Staake .  Looks so fun, the bright colors and the many different little and big robots, makes children wonder what's going to happen in this story.
On the ground and in the air,/Robots, robots everywhere!

Up in space, beneath the seas,/Robots make discoveries . . .

So begins this rollicking Little Golden Book featuring robots of all kinds, from ones up in space to the ones we use at home. With bold, colorful artwork , it's a perfect introduction to the fascinating subject of today's real robots!
---
The second book passing the flashing camera's on this VIP party,  is vN, the first machine dynasty by Madeline Ashby.  The cover is really to my liking.  The title and author name are spaced differently and the picture is telling a story on it's own.  Although dark, I feel it shines brightly!
Amy Peterson is a von Neumann machine, a self-replicating humanoid robot.

For the past five years, she has been grown slowly as part of a mixed organic/synthetic family. She knows very little about her android mother's past, so when her grandmother arrives and attacks her mother, little Amy wastes no time: she eats her alive.

Now she carries her malfunctioning granny as a partition on her memory drive, and she's learning impossible things about her clade's history – like the fact that the failsafe that stops all robots from harming humans has failed… Which means that everyone wants a piece of her, some to use her as a weapon, others to destroy her.
---
Next up is this rather unfitting cover.  Geeks, girls, and secret identities  by  Mike Jung is swinging by .  It's not that I like the cover that much, but the title made me feel like it would be an interesting one.  Ever since The Big Bang Theory, I think geeks are a hoot.  This cover is telling me that there might by a dangerous robot on the loose. The combo leaves me wondering if I'd like to have it on my shelve.
A SUPER funny, SUPER fast-paced, SUPER debut!
Can knowing the most superhero trivia in the whole school be considered a superpower?
If so, Vincent Wu is invincible.
If not (and let's face it, it's "not"), then Vincent and his pals Max and George don't get any props for being the leaders (and, well, sole members) of the (unofficial) Captain Stupendous Fan Club.
But what happens when the Captain is hurt in an incident involving BOTH Professor Mayhem and his giant indestructible robot AND (mortifyingly) Polly Winnicott-Lee, the girl Vincent totally has a crush on?
The entire city is in danger, Vincent's parents and his friends aren't safe, the art teacher has disappeared, and talking to Polly is REALLY, REALLY AWKWARD.

Only Vincent Wu has what it takes to save the Captain, overcome Professor Mayhem, rally his friends, and figure out what to say to Polly. But will anyone take him seriously? Seriously. Anyone??

Find out in this action-packed super comedy debut
---
Last by not least is the Cinder Cover by Marissa Meyer.  It,…  well, it… makes my mind race, thinking about what this story could be about.  I Know I could find a few different story lines going from this picture.The use of color and the ever so subtle mechanical parts make this a real winner on my red carpet shelve this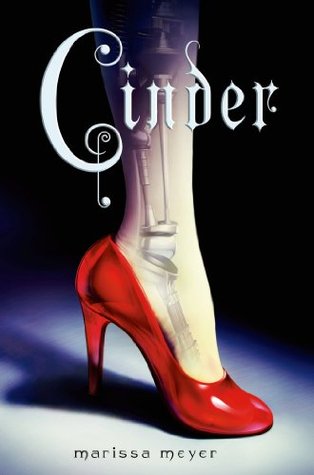 week.
Humans and androids crowd the raucous streets of New Beijing. A deadly plague ravages the population. From space, a ruthless lunar people watch, waiting to make their move. No one knows that Earth's fate hinges on one girl.

Cinder, a gifted mechanic, is a cyborg. She's a second-class citizen with a mysterious past, reviled by her stepmother and blamed for her stepsister's illness. But when her life becomes intertwined with the handsome Prince Kai's, she suddenly finds herself at the center of an intergalactic struggle, and a forbidden attraction. Caught between duty and freedom, loyalty and betrayal, she must uncover secrets about her past in order to protect her world's future.
---
So that's about it for this weeks book cover party.  Hope you liked the covers that attended.  Let me know if you found another one, that really fits the bill.
And as always,  comments and suggestions are welcomed in the comment box.